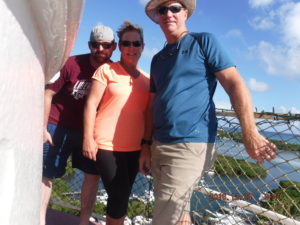 Michelle and I have been married for 28 years and we have ALWAYS spent Christmas with either her family or mine and often, both. We love being with family and enjoying the traditions of the holidays. This year we decided to change it up a bit and have Christmas in the Abacos, Bahamas. We invited our youngest son, Sean, to fly down and spend the weekend with us. Here's my take away from this new experience (new tradition???? hmmm…):
(1) Taking the stress of buying presents out of the holiday really does make it special. You wouldn't believe how freeing it is not to worry about what you're going to get for who and how much money can we afford to spend and what if they spend more on you than you did on them! Arrrggghhh! This year, we told everyone, "We don't want presents and we won't be buying any gifts. We're over it!" The result was that we just got to spend a fantastic weekend with our son and have a wonderful, traditional holiday meal! No Guilt, No Pressure, No Debt! That's my kind of Christmas.
(2) Taking the commercial out of the holiday really does allow one to reflect on the spiritual. And I'm not talking about spiritual in the Christian sense. The relationships we have with those around us are what makes life worth living and being able to just focus on the relationships without that commerical enterprise, "Santa" sticking his nose in everywhere was amazing! I'd take it a step further and say that we need to look for ways to celebrate the time with have we each other – every opportunity we get – not just during a made up holiday.
Enough of that. Let end by saying that we cherished the time that we had with our son, Sean and look forward to his next visit. Maybe next time the weather will be warmer and we can get some diving in!
Now for the pictures.
Christmas 2016