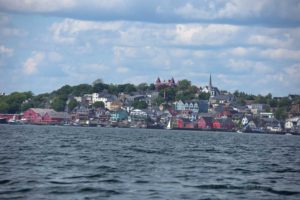 Our destination from Bermuda was Lunenburg, Nova Scotia, a quaint little tourist town with a dark past. Founded in the 1750's, Lunenburg was a perfect, well protected harbor for Cod Fishermen. Over the centuries, hardy fishermen ventured out in to the grey Atlantic in small boats. Fishing was crude and inefficient in the early days.
The original method was to post multiple fishermen around the gunnels (sides) of a small sailing vessel with fishing poles. Cod were plentiful and easy to catch, so they prospered. Over time, methods improved and small "Mother Ships" were deployed with 6-12 smaller fishing boats called Dories which were then launched and set adrift with long lines of hooks. When the dory fishermen caught their fill, they would row or sail back to the host ship, unload and go back for more fish.
Human nature being what it is, the fishermen weren't content with their meager catches and they continued to improve their fishing skills, but they were limited by a lack of "horsepower." Then in the early 1900's, the motorized fishing vessel was introduced and with that came the concept of net fishing. By 1940, a typical cod fishing trip would yield 200-300 tons of fish using nets that were so large, they could hold 10 to 15 747 jets! The Cod Fish had no chance.
It seems odd that nobody saw it coming….The rate of harvest was taking its toll on the fish population, causing catches to decrease, but rather than recognizing the inevitable, the fishermen built bigger, more sophisticated boats capable of catching more fish. Then, within a couple of years the yield fell dramatically by up to 90% and suddenly the fishing fleet was forced to recognize they had decimated a fish species and the Cod Fishing industry crashed. By 1985, the fishing fleet had all but disappeared, leaving bustling fishing ports like Lunenburg to fend for themselves.
Lunenburg still has some commercial fishing, but its primary income today is from tourism. With the promise of a picturesque Nova Scotian fishing town we set course from Bermuda and arrived in Lunenburg 4 1/2 days later to sunshine and calm seas. We spent almost a week there and enjoyed every minute in her harbor. The dogs took us on long walks through the historic streets where the average home is over 100 years old. We toured the Fisheries Museum, went aboard archived fishing boats, and enjoyed several of the fantastic restaurants and bars. The people of Lunenburg are friendly, helpful, and welcoming.
Dark past notwithstanding, I'd rate Lunenburg high on a list of must see villages in this part of the world. None of us wanted to leave, but there is so much more up here that we want to see before the weather forces us to turn south. Our anchor is up and we're headed north. Next stop….Mahone Bay!
During our stay, I took hundreds of pictures and though I'd love to share them all, that doesn't seem practical (or fair!). Below is a slide show of some of my favorites.
Beautiful Lunenburg, Nova Scotia