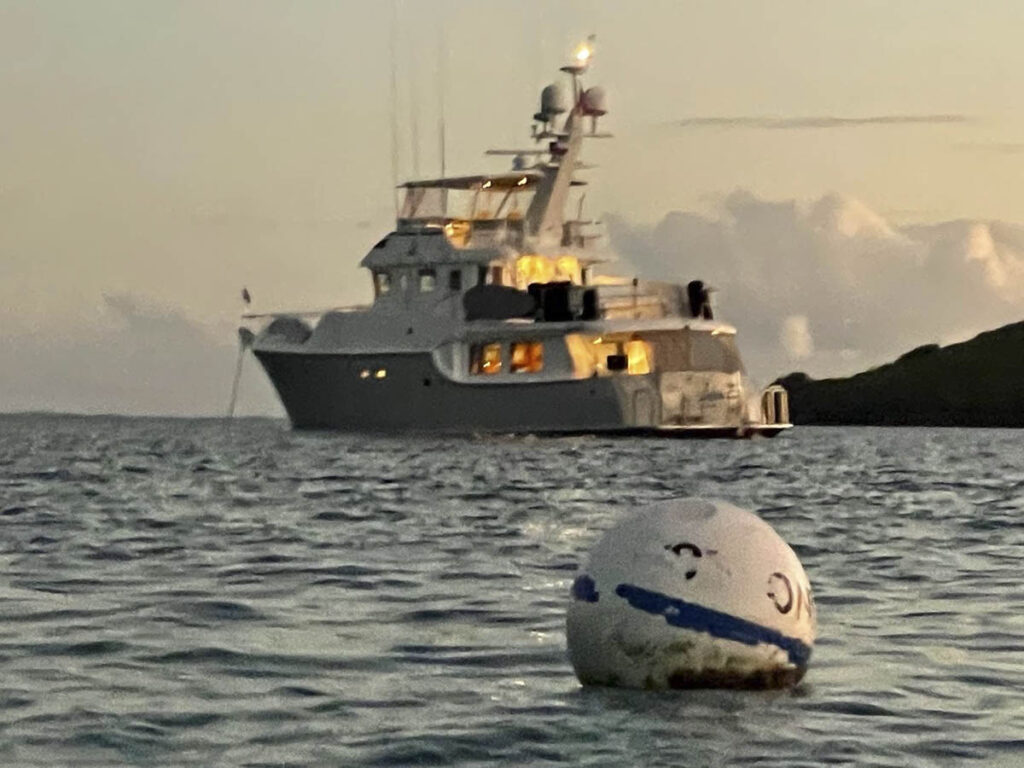 We arrived at the Marina Del Rey in Fajardo, PR on January 25, 2022 and spent a few days getting crew on their way back to their homes, resting, and converting the boat from "delivery" to "cruising" mode. Soon enough we were ready to explore Puerto Rico and its surrounding islands.
Our port of arrival, Fajardo, is located on the SE end of the island and is within easy reach of what is known as the "Spanish Virgins." SVI is made up of the group of islands surrounding Culebra as well as Vieques.
Each island probably deserves a separate post as there is plenty to see and say, but I'll leave that level of detail to the professionals and provide a more broad overview of the cruising grounds, plus some added thoughts worth remembering for our next visit.
Palmas Del Mar Marina
From Fajardo, we hopped down the coast to Palmas Del Mar Marina. The marina itself is decent as far as Caribbean marinas go, but the docks are fixed concrete and when the wind blows out of the S to SE there is a bit of surge that can be hard on our dock lines and fenders. If you're susceptible to sea sickness, this might even be a sickening marina. On the other hand, we found it was an excellent spot for provisioning, doing repairs, and shuttling guests/crew to and from the airport.
We originally chose that marina because (1) they had slips available, (2) it was close to old Texas friends that now live in PR, and (3) it was an easy run to the island of Vieques. We soon found that it was pretty central to anything we needed and we could rent cars cheaply and easily from a local auto rental company located just up the street from the marina.
We returned to the marina multiple times during our stay in PR and found the staff to be very accommodating every time we came in. We also discovered that they had the cheapest diesel price on the island. We'll definitely return, but the surge could be problematic for leaving our boat unattended.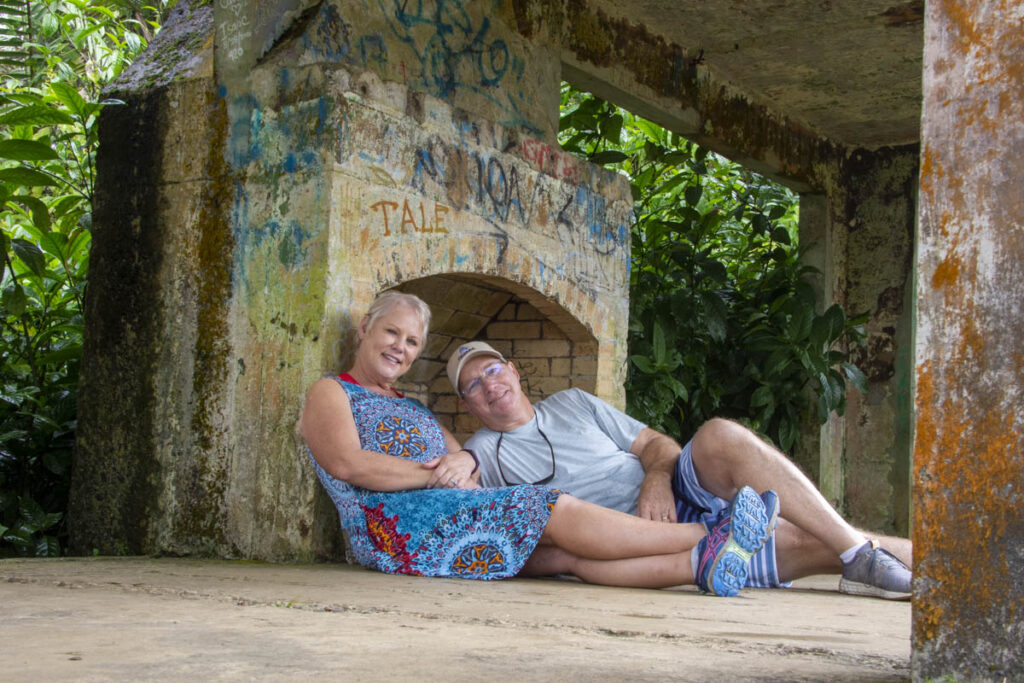 Vieques
When we got locked down in Culebra in 2020, we could see Vieques off in the distance, calling to us, but Covid blocked us and we ultimately had to return to Florida. This time around, there was no stopping us and we did a pretty good job exploring the south side of the island, making multiple trips to/from Palmas Del Mar and Culebra.
Playa Punta Arenas
8.5 miles from Palmas del Mar Marina lies Playa Punta Arenas which is located at the western most point of Vieques. You'll likely have this beautiful anchorage to yourself if you arrive in the middle of the week, but if you arrive on a Saturday, you'll think you pulled in to Miami Beach! The Puerto Rico Party crowd loves this spot because of its proximity to the mainland, its beautiful beaches, and its great snorkeling reefs. The good news, is that if you forget and drop anchor on the weekend, almost everyone will leave before dark and those that stay over Saturday night will be gone before sunset on Sunday. Regardless of the potential for crowds, I consider it a worthwhile stop (we returned 3 times during our stay in PR).
Esperanza
From Punta Arenas, we moved east along the south coast to the town of Esperanza. The anchorage provides decent protection from winds N to SE, though if the wind goes too far S, you'll get some roll. Ashore there are several good bar/restaurants that have good happy hours with decent bar food. On a return trip later in the month, we had SPECTACULAR Valentines dinner at El Quenepo with our guests Bart and Krysti from Fort Worth.
Bahia Bioluminiscente
The bioluminescent bay is famous and we're told it is worth visiting. In fact, this was high on my "Must See" list for Puerto Rico. Unfortunately, hurricane Dorian damaged the biomass that causes the water to light up when disturbed and while they still have SOME bio activity, it often is so weak that you have to put a tarp over your head at night so that you block out 100% of the ambient light in order to see the show. It just didn't seem worth it to us, so we passed on this trip. Next time…
Puerto Ferro
Working our way east along the south coast, we found a spectacular anchorage, called Puerto Ferro. Puerto Ferro offers excellent all around protection. The entrance to the bay is narrow and can be a bit intimidating as you approach from the west, but the charts are excellent and the visual cues are pretty clear once you get up to the entrance. There is plenty of space to anchor, though you'll have to be careful when you get back into the bay proper, as the charts are less clear and there are some shallow areas that you'll want to avoid. Holding is excellent, however, in mud and sand.
The bay is secluded and surrounded by a national park. I was surprised how few boats there were anchored in this bay, but happy to have the privacy. The water in the bay isn't pretty like you'd expect of a Caribbean anchorage, but it's calm and you only have to dinghy back to the entrance to the bay to find the requisite clear water. There are excellent beaches on the east and west sides of the entrance, though the western beach does catch some wave action when the wind is out of the SE to S. We didn't do it, but in settled weather, the snorkeling looks like it would be excellent around the entrance. We dinghied to the eastern beach (facing west) and enjoyed a wonderful afternoon with an umbrella and beach chairs, letting the dogs run a bit.
We returned to this anchorage with our Texas friends and did some hiking around the park on the eastern side of the anchorage. The views are spectacular! There is an old abandoned light house on the western entrance to the bay that is worth visiting, but we found that it was much easier to access it by Mopeds which we rented in Esperanza.
Exploring the Rest of the Island by Moped
When our Texas friends were with us, we decided to run back to Esperanza and rent Mopeds for the day in order to explore the rest of the island. Mopeds are an EXCELLENT way to explore Vieques. It's small enough that you can see the entire island in a day and there are very few cars on the island, so you don't have to share the roads much at all. In fact, we found that there were more wild horses on the roads than cars!
We drove across the island to the main town of Vieques and had a wonderful lunch at a place that I can't remember the name of and I'll probably never be able to find again. The airport (such as it is) and the ferry docks are the reason the town exists. Since it's on the North side of the island, it's not "cruise-able" in the winter, but I have seen pictures of boats anchored off the ferry docks in the summer or fall.
We explored counter-clockwise and tried to visit the rum distillery on the NW side of the island, but it was closed on the day we stopped by. 🙁 We continued on past several very inviting resorts and small settlements, occasionally stopping to watch the horses. We were surprised to find that the wild horses living inland were skinny, dirty, covered in burrs, and generally looked sad. On the other hand, horses that were living on the coastline looked as if they were eating well and their coats looked healthy. We observed several down on the beach, swimming, and rolling in the sand. I don't know, but it looks like the horses in and around the water were healthier and happier than those living inland. Is there a lesson to learn there? Hmmm.
Culebra
The other main island group of the Spanish Virgins is Culebra and its surrounding smaller islands. Culebra is located about 12 miles east of Fajardo (the western end of mainland Puerto Rico), and about 12 miles from St. Thomas in the Virgin Islands. In the spring of 2020, Michelle and I spent a month in Culebra at the Ensenada Honda anchorage, locked down by Covid. We weren't allowed to go ashore except for groceries and to walk the dogs daily and we couldn't explore the other islands. With that history, you'd think we wouldn't return, but in truth, we were anxious to fill in the blanks and experience those areas that was so close, but yet out of reach.
The Town of Culebra
I'm struggling to come up with an adequate description for Culebra. It's primary business is tourism, but in a 1960's vibe. There are no national hotel firms, no high rises, no restaurant chains, no fancy clothing stores. What there are is great beaches, good scuba diving, a couple of decent restaurants, and lots of friendly people. There are 10-15 great anchorages within 5 miles of town.
The Dinghy Dock Restaurant is (as you'd expect) right on the water, overlooking the harbor. The food is excellent, but you can't use them as a dinghy dock – in fact, you even can't get off your dinghy until they have a table for you and you should expect to wait up to a couple hours for your table. It's a shame they don't have a bar that you can wait at…
Under the bridge and just up the canal from Dinghy Dock is a REAL dinghy dock that is maintained by the local grocery store. You can use the dock to go to the store, or to explore town. There is a public dock in the anchorage, but it is hard to get on/off your dinghy because of the height of the dock and it can be rough there.
East Coast Beaches
Go under the bridge and through the canal past the grocery store (port side) and past the ferry dock (starboard side) and you'll be on the east side of the island. To port are several beaches or go to starboard and there are beaches. All of them are spectacular, but I do have some favorites.
Datiles – This beach is literally just to your port as you exit the canal. Go past the jetty and there's the beach. You can access the beach by dinghy or by leaving your dinghy at the dinghy dock and walking. The beach is easy to get to from the anchorage and is usually empty, except on the weekends…
Punta Tamarindo – Turn to starboard as you exit the canal and continue about 1 mile to Tamarindo. I really like this beach and anchorage. I spent a couple of nights here when I was soloing Roam when Michelle flew back to the US for a Girls Vacation with her Mom and Sisters. Roam was the only boat in the anchorage and while it was a bit rolly, the water and beach were so fantastic that the bit of roll was worth it. Just be careful when going ashore by dinghy that you look for the sandy spots on the beach. The rocks are tough on dinghy bottoms…
Carlos Rosarion Beach – Brother-in-law and I snorkeled here by dinghy then came back a day later and scuba dove the deeper ledge. Lots of fish. There are moorings here for the dive boats, but I believe you could stay over night if you arrive late in the day. On the other hand, I wouldn't trust the moorings with a heavy boat.
Cayo Luis Pena
Exit the canal with the ferry dock to starboard and less than a mile ahead of you is the island of Cayo Louis Pena, which is a national park. There are several excellent anchorages and good hikes, snorkeling and diving.
Lana's Cove – is on the SW side of the island. It can be a bit rolly here, but the white beach is half moon shaped. There are several trails worth exploring as well.
Cayo Luis Pena West – Brother-in-law and I spent a night here and we had one of the best snorkels here that I had in Culebra. Protection was excellent from the SE breeze.
Bahia de Almodovar
If you exit the Ensenada Honda anchorage, follow the island to port and you'll come to Bahia de Almodovar. This anchorage is well protected from a horseshoe shaped reef, providing 360 degree coverage. There are some moorings, but there is also plenty of room to anchor. We stayed here for a week in 2020, and loved the anchorage, EXCEPT, there is really no place to take the dogs ashore. We sort of trespassed on an estate, but we were uncomfortable the entire time. It is easily within a short dinghy ride to Culebrita, but landing the dinghy could be a challenge on windy days.
Culebrita
We tried to anchor in the Culebrita Island Anchorage which on paper looks fantastic. The anchorage is deep in a u shaped bay with beautiful white beaches all around. The problem is that the entrance is narrow and in certain conditions, it would be possible to get trapped in the anchorage with now way out. We gave it a shot, but with SE winds blowing 15-20 knots, we didn't feel safe, so circled and moved on to a better anchorage for the conditions. In settled weather, it would be spectacular though. We just never had the opportunity. We're told that it is best in the summer and fall.
Ashore there are multiple great hikes which we didn't get to do, but we hope to go back and spend more time there some day.
Customs/Dog Importation
Since Puerto Rico is a US Territory, there is no check in/out process. Likewise, there is no requirement to import pets.
Maintenance
We did have a failure while we were in Puerto Rico that we had to deal with. One of the hydraulic cylinders on our Steelhead 1500 crane blew a seal and was leaking hydraulic oil all over the boat deck. We were in Culebra at the time, so we towed the dinghy back to Palmas del Mar Marina and Michelle and I pulled the crane apart, removed the hydraulic cylinders, and I took them to a hydraulic shop to have them rebuilt. The total cost was around $300 and a couple of busted knuckles and plenty of F Bombs, but we were back up and running within a week!