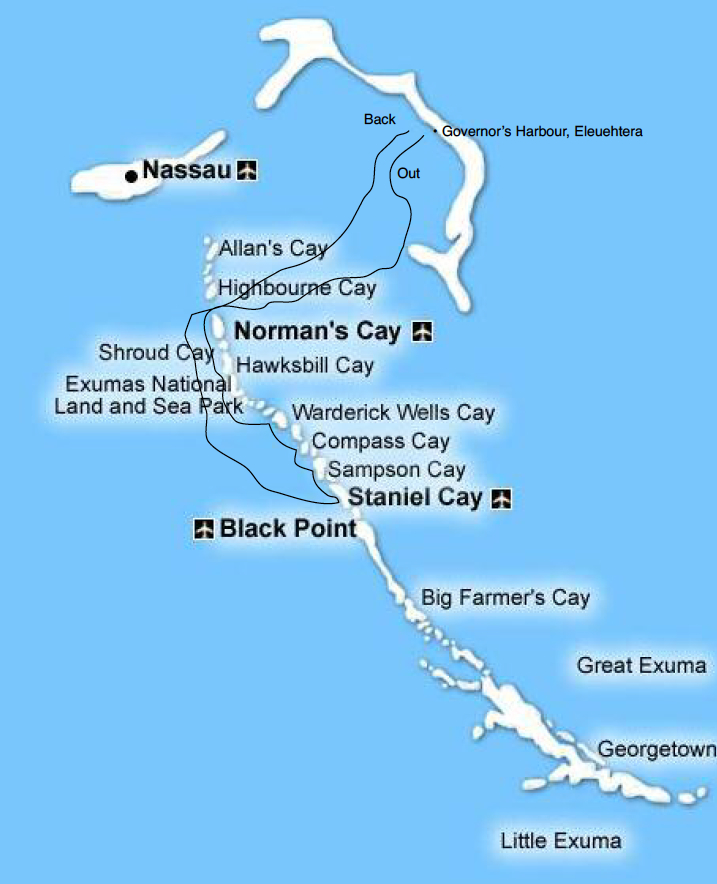 We crossed the Exuma Sound from Eleuthera to Staniel Cay on February 24. The cruise was spectacular and we even caught a Blue Marlin along the way. We have been to the Exumas many times on our Nordhavn 47, "Roam" and on our previous sailboat, "Double Wide." Over the years we've explored the entire island chain, from Allen's Cay at the northern end of the Exumas all the way south to Georgetown. OK, to say that we've explored the "ENTIRE" chain of islands is a bit of an exaggeration, given that there are over 500 islands between Allen Cay and Great Exuma Sound. We've explored SOME of the Exumas. We have our favorite anchorages and tend to return to those spots, year after year. Perhaps next year we'll set foot on a few more spectacular beaches! Perhaps…
We spent a couple of days anchored at Big Majors, home of Pig Beach and just around the corner from Staniel Cay Yacht Club. This area has become very popular with the super yacht crowd. Jet Skis and Yacht Tenders that are almost as large as Roam abound, so we continued north in search of our own kind…
Warderick Wells, Exuma Cays Land & Sea Park
The Land & Sea Park was established in 1959 and is one of the oldest marine land preserves in the world. Made up of 16 primary islands and dozens of small cays, the park covers a total of 176 square miles of protected habitat.
Our favorite anchorage in the park is Warderick Wells. We love the north mooring field, a small horseshoe shapped anchorage which is overlooked by the park headquarters. Here's an image of the North Field that I had to get off the internet. Can't believe I've got hundreds of pictures around Warderick Wells, but I've never thought to put the drone up and take a pic of the horseshoe! Sounds like a good excuse for another trip to me!!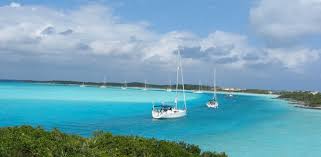 Here are a couple of pictures that I've took this year and last year. The blue water and white sand beaches are what keeps us coming back!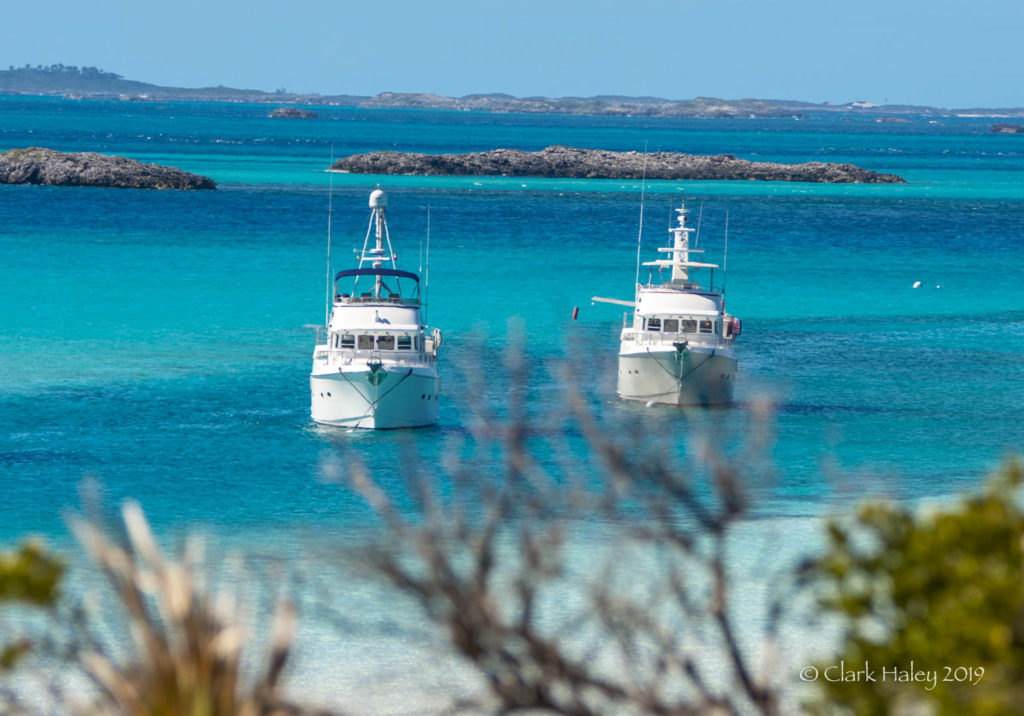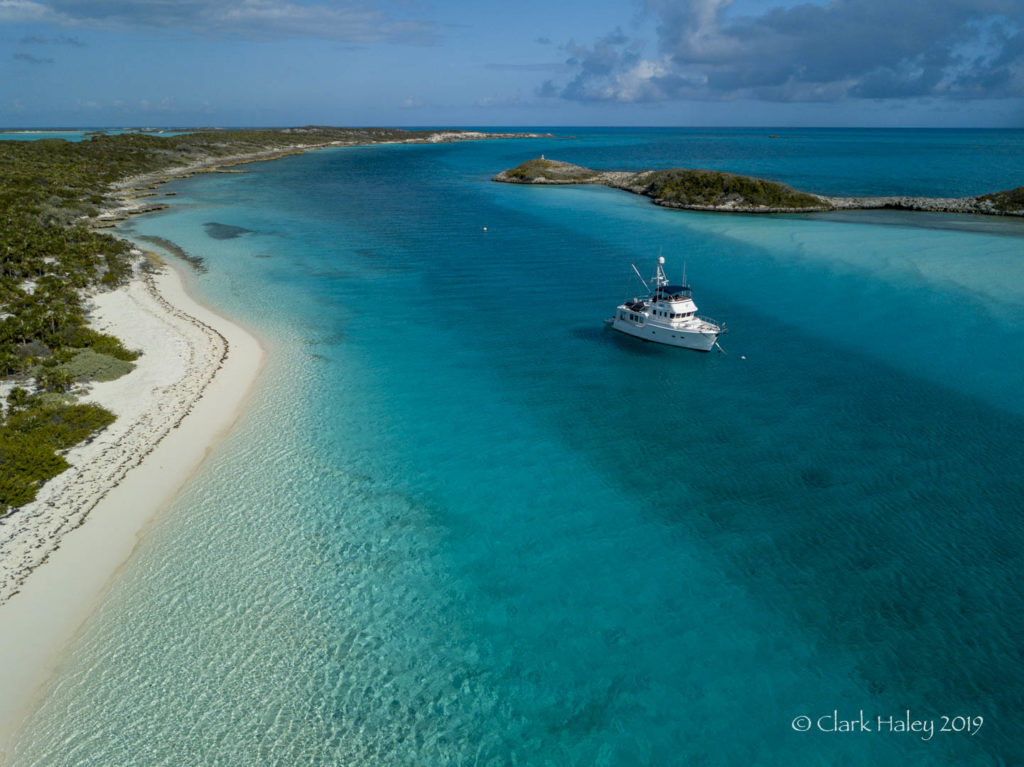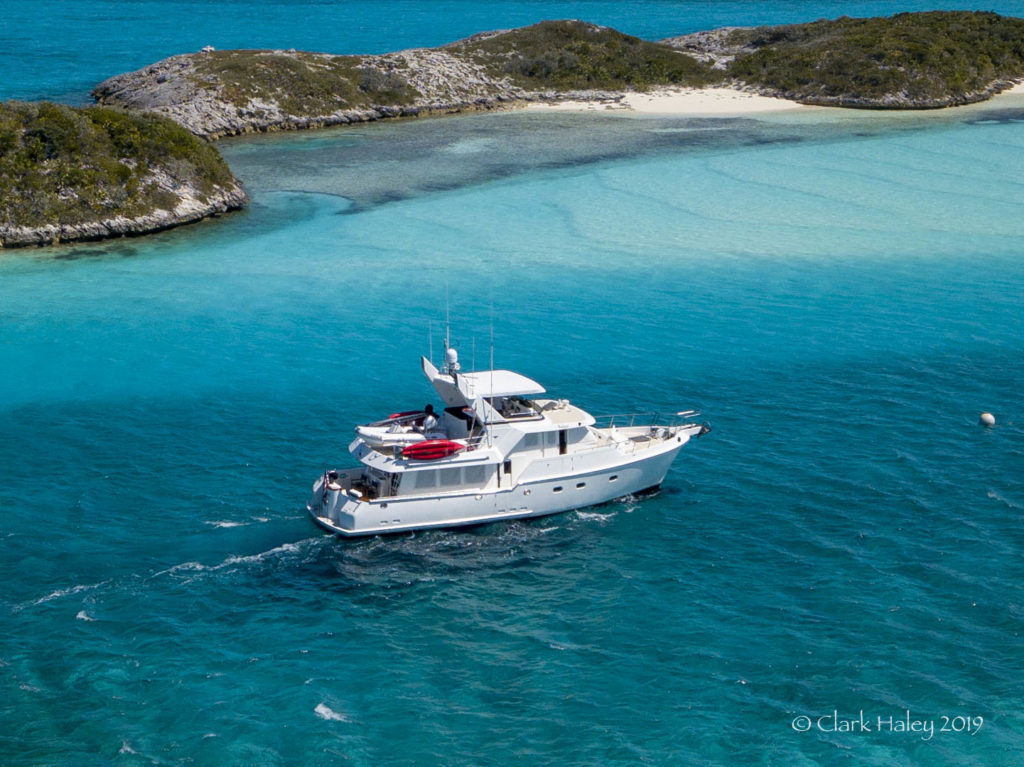 This year, we decided to be reckless and stay in the Pirate's Lair, which is a very small anchorage (room for two boats on mooring balls) on the Southeast side of the island. We Loved it and will try to stay there next time we're in the area. Here's a short video of our friends Gale & Mary on their Nordhavn 57, Worknot coming in to join us.
Windsurfing at Long Cay
For a change of pace, we moved north to Long Cay (not to be confused with Long Island), which is just south of Highborne Cay. We had never anchored there before, but we thought it might provide good protection from a NE wind. It didn't, but we hung out there for a week with our friends Gale and Mary (N57 Worknot) and Ted and Jenny (N47 Southern Star). Ted and I were anxious to take advantage of the stronger wind and get some windsurfing in. Ted and I both were windsurfing instructors in the days when boards were 13 feet long and three people could stand on a board (and it almost took 3 people to carry one!). At 3.5 meters long and 145 Liters of volume, my new board is a bit of a challenge for us old timers, but we both managed to get some good sailing in. Here's a quick video of Ted on the board.
From here, we had to head back to Nassau to get Bahamas Health Certificates for the dogs, but that's another story!!
Next Up: Getting Ready for our trip to Turks & Caicos