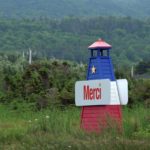 A couple of weeks ago, we decided to take a vacation from our vacation and along with our guests, Mark Cole and Michele Kelly, and our friends Clayton & Deanna Naeve from the Nordhavn 50, Tivoli, we rented a van and headed up to wonderful Cape Breton Island. According to the internet (which is always 100% accurate):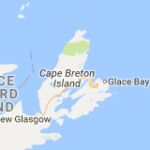 "Cape Breton Island is at the eastern end of the Canadian province of Nova Scotia. Its Cabot Trail is a roadway encircling the island, passing forests and rugged coastline. The drive skirts Cape Breton Highlands National Park, whose Skyline Trail footpath overlooks the Gulf of St. Lawrence, known for migratory whales."
We left our boats in the capable hands of the Royal Nova Scotia Yacht Squadron in Halifax. Well, really, we just left them tied up at their docks, but I'm sure if there had been any problems, the members of the Squadron would have come together to protect our Nordhavn homes…
We allocated three days for our vacation and I think we could have spent a week, touring museums, hiking the Cape Breton Highlands National Park, and exploring the dozens of fishing villages scattered along the coast.
The highlights for me: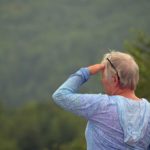 Skyline Trail – By all accounts, this is 2-3 mile hike takes you out and along a mountain ridge where you get a spectacular view of the Gulf of St. Lawerence. I'm sure when we were there, whales were jumping clear out of the water, grey seals were standing on their tails along the beach, and cod as big as a grown man were patrolling the shoreline. I believe this all to be true, but I have no idea, because when we were there, the fog was so thick, you couldn't see 50 feet in front of you. Even still, it was a beautiful hike and the lesson learned is that it is almost always foggy in the morning – so go in the afternoon!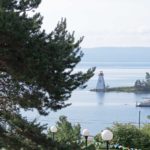 Town of Baddeck – This lovely little berg is located on the Bras 'd Or Lakes and is truly picturesque. Baddeck was the summer home of Alexander Graham Bell (the Bell Museum is spectacular) and is where the world motor boat speed record was set in 1919 with a hydrofoil boat (71 MPH) designed by Bell.
Puffin Tour – On our last day in Cape Breton, we went on a boat tour out the Great Bras 'd Or Channel and visited Hertford and Ciboux Islands which are known for their Puffins, Grey Seals, Eagles, and a dozen or more other bird species. This tour was by my favorite part of the vacation from the vacation. We saw hundreds of Puffin in the water and ashore (they only come ashore to raise their young). We saw no less than 25-30 eagles (they come to the islands during the hatching season to help keep the Puffin population down). And we saw dozens of Grey seals lounging around on the rocks and doing their best to ignore us.