Once we got our semi-annual maintenance stop completed in South Florida, we were ready to begin our migration north like thousands of other boaters. Boat insurance companies charge a HUGE premium if you want to leave your boat in the "Hurricane Zone" between about July 1 and November 1. During hurricane season last year, we moved ROAM up to the Chesapeake Bay and while we love that area of the country, we rediscovered that we DON'T love that area during the summer!! It's hot, humid, and the stinging nettles (jelly fish) are so thick that you can't cool off in the water.
So this year, we decided on Maine as our final summer destination, with a stop or two along the way…
As we cleared the jetties at Fort Pierce, FL on June 19, we realized we had a good weather window to ride the Gulf Stream up the coast, so we settled in for as long as the weather Gods would allow us to continue. As it turned out, they didn't realize we were offshore so we continued north, all they way to Clinton Connecticut, distance: 1,050 miles and time: 7 days. The only "rough" weather we had was off of Cape Hatteras, but we worked our way a bit closer to the coast to get out of the Gulf Stream and we had a comfortable ride the rest of the way up the coast. We hadn't really planned to move so quickly up the coast, but when the window of opportunity presented itself, we took full advantage, knowing that by moving slower, we might get forced to move on rougher days and we'd regret passing on such a perfect opportunity to get our northing done.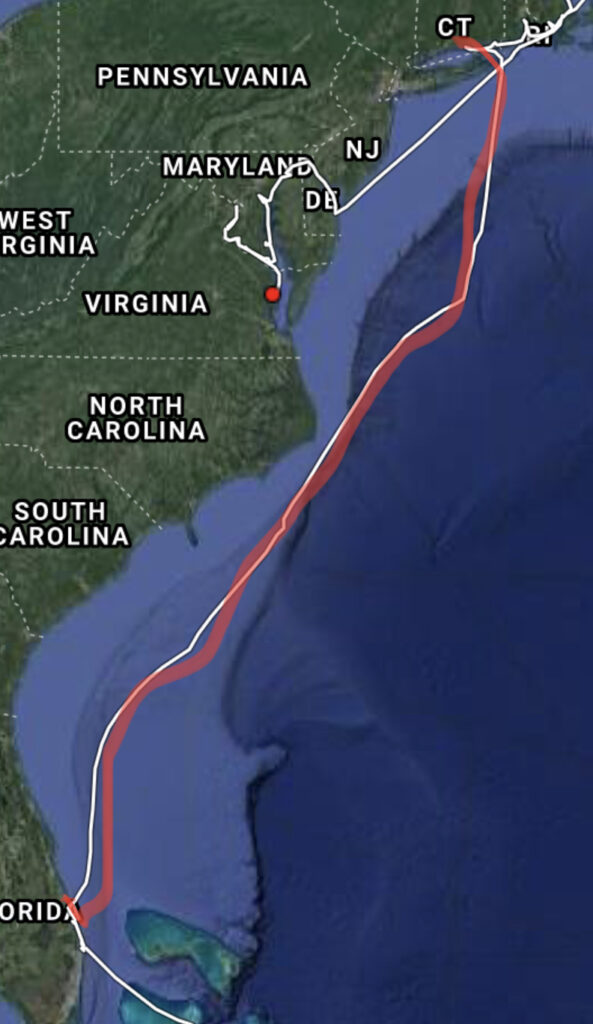 Michelle's Cousin and her boyfriend live near Clinton and had invited us to stop and visit and without the time pressure we often feel to keep moving, we relaxed and enjoyed a rare few days with family.
From Clinton, as you head NE out of Long Island Sound, there are several historical towns that I have always wanted to visit and, since we were in the neighborhood…
Mystic Connecticut
Mystic is a beautiful little community up the Mystic River and is home to the Mystic Seaport Museum a vibrant tourist area, and of course, Mystic Pizza! We spent several wonderful days exploring and enjoying the community.
The star of the show for me, was Mystic Seaport Museum, which includes a seaport village, which recreates a seaport experience from the 1800's. They also have several ships that you can tour (except not when we were there :(), including the last surviving wooden whaling ship, the Charles Morgan. I wish we had known in advance, but if you join the museum, you can stay on their wharf while and you get unlimited access to the museum grounds. That would have been great since, the museum is large enough that I could spend 2-3 days there easily.
East Warwick RI
To get to East Warwick, we passed right by Newport, which was our original destination, but it was the weekend, and Newport looked super busy, so we continued on up the bay and settled in, anchoring in front of a beautiful park that offered Goddard State Park which offered great hiking trails, a nice beach to take the dogs to, and hardly any other boats to crowd the anchorage. There really isn't much of a story to tell about this spot. Just that we enjoyed 3 quiet nights here before heading back to Newport.
Newport RI
Newport, Rhode Island – the Sailing Capital of the United States! Here you can see every type of pleasure yacht you can imagine. From foiling dinghies to modern super yachts and classic Americas Cup yacht. It's all here – along with tons of people and activity.
We were able to squeeze in to a corner of the anchorage before settling in to watch the show! The town itself has a cool laid back touristy vibe that was fun to be a part of. We decided to take a mansion trolley tour, but it turned out to be more of a Hollywood gossip tour, e.g., "In that house up on the hill, Joan Crawford blah blah blah." We were hoping for more of a historical perspective. Oh well…
We enjoyed the town, but three nights was plenty of time and we were ready for something new!
New Bedford MA
The center of the whaling industry was New Bedford, so of course we had to go there! As waterfront towns go, NB is very industrial. We stayed on a mooring ball (no anchoring allowed) just south of Pope's Island and across the river from downtown New Bedford. The view wasn't inspiring, but I'd heard good things about the whaling museum, so that was my mission. Michelle was in search of a gown to wear to our Son Sean's wedding, so we split up for the day.
The New Bedford Whaling Museum is more of a review of the multiple cultures brought to the whaling trade by different groups of peoples. It was a perspective that I hadn't put any thought in to prior to my visit. The terminology, methodology, and even art were all influenced by Portuguese, Africans, British, Irish, etc. This wasn't my favorite whaling museum, but well worth the visit. They even have a 2/3 scale model of a whale ship that you can climb around on, right in the middle of the museum!
And Michelle found her dress, so WIN/WIN!
Provincetown MA
At the very tip of Cape Cod Massachusetts is the quaint little town of Provincetown, known locally as P-Town, sight of the landing of the Mayflower in 1620. P-Town is a very eclectic seaside community, known as a haven for bohemians and artists. It has dozens of great restaurants, art galleries, and tourist shops. We decided it would be fun to be there for the 4th of July, but when it came right down to it, Michelle and I didn't really fit in when P-Town ramps up in full party mode. We wondered around a bit, gawking at the crazy costumes and behavior and managed to find a semi-quite place to eat a late lunch, but we were back on the boat well before dark, when they say it starts to get wild!
Unfortunately, the P-Town 4th of July celebration turned out to be a major Covid spreader event. We're sorry for those that got sick and happy we didn't get exposed.
Portsmouth NH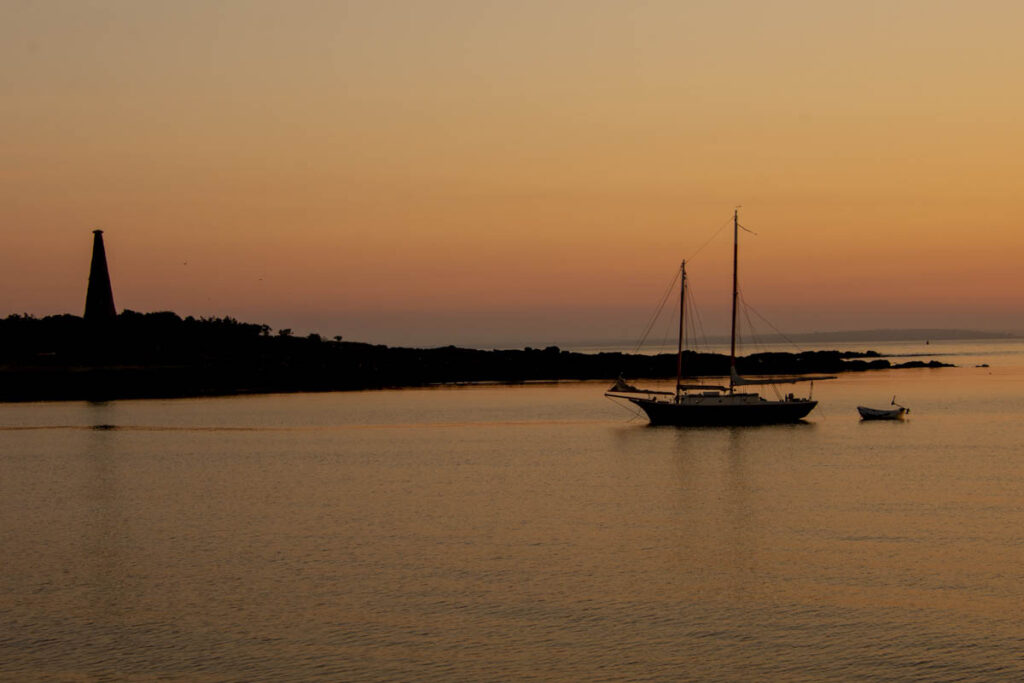 So our insurance company wants us north of the Florida border to avoid hurricanes, but we had to run up the Picatagua River to Portsmouth New Hampshire to avoid Hurricane Elsa (Or was it Fred?). Whatever. It's crazy to be running form tropical storms/hurricanes this far north – but then, we probably would never have gotten up to Portsmouth if it weren't for dodging a hurricane. Thanks Elsa! Rain kept us aboard ROAM most of the time we were there, but we did get off for a walk one morning and as we crossed bridge, we realized that the town on the other side of the river, is Kittery Maine, so we managed to beat ROAM to Maine, but about 1/2 mile and 2 days!
That's enough about our travels north for this post. Next time, we'll talk a bit about MAGNIFICENT MAINE!