With Puerto Rico shut down as a result of Covid-19, we knew we needed to get out of San Juan. First, it was the epicenter of Covid on the island. Second, the marina was very expensive and we didn't have budget to stay there indefinitely. Finally, the marina manager needed us to leave as he needed the space for another boat that had previously booked a reservation.
With that said, before we left San Juan and headed to Culebra (located on the east side of PR), we went to the trouble of getting clearance from the US Coast Guard and they, in turn, verified with the Governor's office that we had the right to leave port and run the 55 miles across the north side of Puerto Rico and around to the east side of the island and on out to Culebra.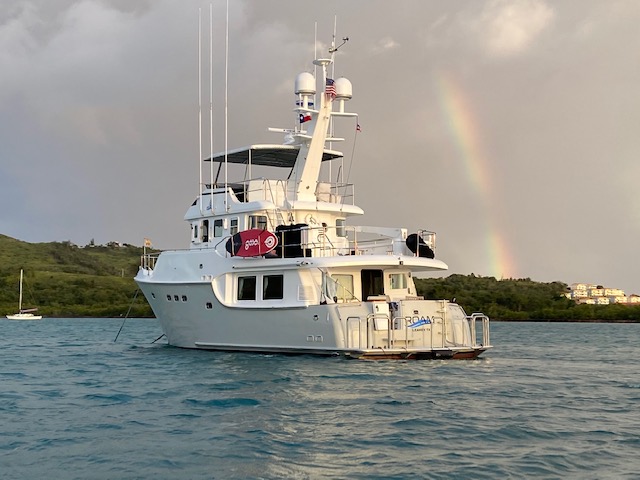 With verified clearance to move, we left the marina and headed out of the safety of San Juan Harbor. The marina manager was surprised that we were leaving, but happy to have us go. We had a great run across the north side of the island, but strangely, we didn't see any other boats throughout the day.
As we turned the corner and headed southeast toward Culebra, we were surprised to see a police boat speed up along side us. We continued to chug along at our normal 7 knots and I went out on the Portuguese bridge to talk to the Captain (he couldn't figure out how to use the VHF to talk to me, so we had to yell back and forth, while the helmsman tried to keep from ramming us!). Here's how our conversation went:
Barney Fife: "Captain, where are you coming from?"
Me: "We're coming from San Juan, heading for Culebra"
BF: "You can't be here. You must return to San Juan."
Me: "There is no place for us to go there. The marinas and anchorage are full, so we can't go back to San Juan."
BF: "You must go back."
Me: "I can't go back. There is no safe place for me there. We received clearance from the US Coast Guard and the Governor's office to go to Culebra before we left San Juan."
BF: "If you are not going back, I will have to arrest you."
Me: "If you must arrest me, you will have to find a safe place for my boat and crew, like Culebra."
BF: "You must go back to San Juan."
Me: "I can't go back there, but what if we go to Isla Palamino tonight. It is only 5 miles ahead and appears to have an anchorage."
BF: "I will allow you to go to Isla Palamino, but you must stay there and I will come to check on you tomorrow to make sure you are still there."
Me: "Ok, but I will not stay there if the anchorage is not safe. I will not put my boat and my crew at risk."
BF: "Ok, you will stay there until I tell you it is safe to leave."
So, we altered course and headed for Isla Palamino. It was a nice little island, but very rolly and completely unprotected from the north and west. This was NOT going to be an acceptable long term anchorage, but we dropped our anchor and settled in for the night.
Michelle and I realized that we needed to leave before Barney Fife came out the next morning, so at 3:30 in the morning, we were up and moving. We turned off our AIS, pulled up our anchor, and made a "flank speed" run for Culebra (Flank Speed for us is 8 knots). We found a very secluded anchorage called Bahia de Almodovar, got our anchor down just after sunrise, and left our AIS turned off for the next week. We had made a successful escape from Barney Fife!
Look, I would not normally break the local rules. As travelers, I think it is our responsibility to respect local customs and authority. Too often Americans do not respect the local laws and are disrespectful to locals. That bad behavior affects future visitors. I want to follow the rules, really. But when the safety of my crew and my boat are in the balance, I will do what I must. A sailboat that was anchored next to us at Isla Palamino told me later that Barney did come looking for Roam the next day and if we had stayed, I'm not sure what would have happened. What I do know is that within 24 hours, a front had blown in and that anchorage would have been untenable. When Martial Law is in place, like it was at that time, you have to be respectful and recognize that it is an unsettling time for everyone and the rules become murky. Ultimately, I felt that I had no choice but to disobey the local police.