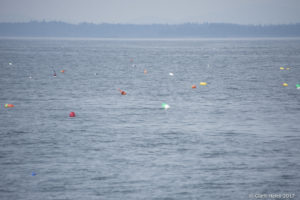 "Step on a Crack and you break your mother's back." That old children's poem is stuck in my brain as we pick our way south through the lobster pots scattered across the waters of Maine. They carpet the surface, in waters from just a few feet off the shoreline to over 300 feet deep and many miles offshore. You see them in harbors, anchorages, mooring fields, and navigational channels. At times they are so thick that it is difficult to get past them. Roam is equipped with Line Cutters on her shaft that are designed to cut the lines before our running gear becomes hopelessly entangled. We feel bad for the lobstermen and try our best to avoid the traps, but sometimes it is simply impossible and we have to just run them down.
Avoiding lobster pots is a small price to pay for the privilege of experiencing the beauty of the Maine Coast. Thousands of islands, hundreds of beautiful boats, interesting and unusual (to us) wildlife. Roam chugs along obediently, while Michelle and I Ooh! and Awe! at all we see around us.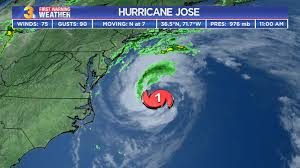 As we've been moving south, we've had to closely watch the weather as Hurricane Jose has been lingering off shore. We were planning to be in Boston this weekend to visit with friends that live in the area, but we felt that we should stay further north until the weather settles. We found a well protected marina in Portland Maine and we're using our time here to do boat chores and to get off the boat and enjoy some of the pleasures of a "big city" after being in anchorages or small villages most of the summer.
We hope to begin our migration again late this week, depending on what path Hurricane Maria takes. Perhaps she'll head north east and die out in the Atlantic….Unfortunately, Boston will have to wait for another trip as we now have our sites set on Martha's Vineyard and Nantucket next week and then we'll be heading on to the C&D canal and ultimately Annapolis for the boat show in mid-October.
Here are a few pictures from our cruise south along Maine's beautiful coast.