Michelle and I spent most of October back in Texas and Roam sat patiently waiting for our return. Michelle had commitments that would keep her in Texas in November as well, but with a cruise to the Bahamas coming up quickly and a list of "must have" boat projects waiting, I headed back to Florida without Michelle.
We're going to have some electronics installed and our "electronics guy" is in West Palm Beach, so with help from the dock master in Fort Pierce, I slipped the lines for a solo-run offshore down to Palm Beach and the Old Port Cove marina. Florida has been buffeted by strong ENE winds for a month and it didn't lay down for me yesterday. 20-30 knot winds made for a very sloppy passage south, but Roam (and I) was up for the challenge and I dropped anchor in Lake Sylvia at around 6:20 PM, just in time to watch the sun set over Old Port Cove.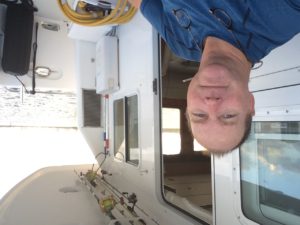 This morning, I need to up anchor and head in to the marina, but as I sit here in the cockpit, with a hot cup of tea, listening to the wind and water swirl past Roam, this seems like the right place to be. I think I'll have another cup of tea and watch the water for a while longer….The dock (and projects) will wait.