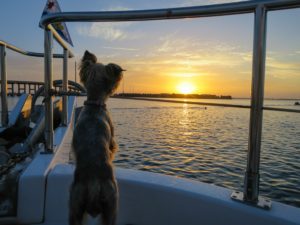 To be honest, on our last boat (a 40 foot Manta sailing catamaran called Double Wide) I never did a shakedown sail before any of our extended cruises. We just fixed what we knew was broken (if we thought it was important), loaded the boat with groceries, and set out for new adventures. But ROAM, our Nordhavn 47, is a different class of vessel with 10X the level of complexity of Double Wide. More complex systems mean more opportunities for breakdown. With this in mind, the  the past few months have been dedicated to fixing broken systems and doing preventative maintenance on others. The last thing to do before we could declare Roam ready to go is run her hard to make sure everything works and to verify that nothing more has broken while we've been at the dock (cause boats do that you know — they just break while they're sitting!).
With our friends Mark & Michele aboard, we set off on a 33 hour speed run to Marathon, FL in the Keys, expecting (hoping) that nothing would go wrong on our trip south.
I was alone at the helm a little before 9:00 PM when I caught the first whiff of smoke…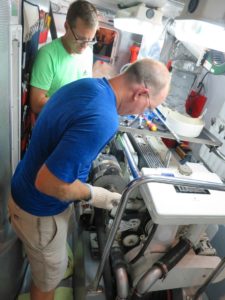 I consider myself to be a competent boater. I've logged thousands of miles and encountered and overcome dozens of problems that many would have been overwhelmed by, but I was able to calmly repair on the fly. The only thing that terrifies me when at sea is FIRE. When fire breaks out on a boat there is usually no good outcome. There is little time to react and almost no chance of saving a burning boat. So when I got the first whiff of smoke in the pilot house, I was up and moving to the engine room at  dead run!
I peaked through the window on the engine room door before opening it. I could see smoke, but no open flames, so in I dove in for a quick inspection. Within a few seconds, Mark and had I found the culprit to be the big 270 amp alternator. The bearings had seized and it was smoking and sparking like the fourth of July! After switching to the "Get Home" engine and shutting down the main, Mark measured the temperature on the alternator at over 600 degrees!
We carry many spares parts aboard Roam, including a replacement alternator, so Mark and I had the old alternator changed out within 90 minutes and we were back under way. I think we'd have been able to get it done in less than 45, but we had to wait for the hunk of metal to cool down so that we could handle it.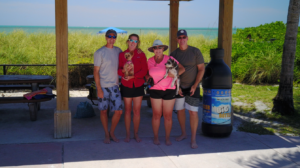 The rest of the trip was pretty routine as far as shakedown cruises go. We had a couple of layover days in Marathon and we filled that time with snorkeling at Sombrero Reef, picnics at the beach, and relaxing sunsets (with cocktails, of course). Cruising at its finest!
As I write this we have completed our run to and from Marathon and we're now at the dock at Old Port Cove Marina in Palm Beach, happy to have made the trip and and pleased that we pushed Roam a bit in order to uncover weaknesses that could affect our trip to Bermuda.
T-Minus 5 days….