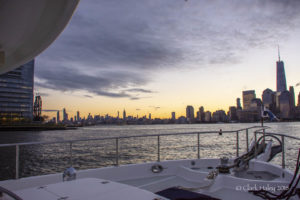 We had absolutely no plan to go to New York. We spent a New Years Eve at Times Square in the 80's and figured that was enough of NYC for a lifetime! Well, in cruising, you have to expect the unexpected…Once we passed through the Cape Cod Canal, leaving New England in our wake, we realized that the weather was going to get nasty within 12-14 hours and we needed to find a safe place to hold up for a couple of days. We thought we'd find a nice secure anchorage just beyond the canal, but in a weak moment we decided to going on to NY and spend a couple of days taking in the city – and in the end, we're glad we made the effort.
We pulled together a quick plan and called Liberty Park Marina which is located in New Jersey, just across the Hudson from One World Trade Center. We felt lucky to get the Off Season rate of $3.50 per foot/night (Yikes!!). Next we started looking at plays we could get tickets for and restaurants that we wanted to eat at.
The only thing left to do was hang a right at Montauk and head up the Long Island Sound. We made the right turn at around 4:00 AM and began the LONG trip up the sound. By 4:00 PM we were still 5-6 hours away from Liberty Park Marina and the weather was forecast to turn nasty before we would arrive, so we decided to stop for the night at Port Jefferson.
The next morning, we continued up the Sound and through New York's complex waterway system. There were ferries running back and forth in every direction, ships and barges running up and down the narrow channels and we even had a float plane land in front of us, threading the needle between water traffic!
Fun fact: The Bronx is the only NY Borough that is connected to the mainland. The rest of New York is a series of islands accessible by traffic choked bridges or by water taxis and ferries. 
Liberty Park Marina offers reasonable protection from weather and boat wakes and is a short ferry ride to Downtown Manhattan. It's a great marina, but at the rates they charge, they should really have better internet and a hot tub would have been a nice treat!!
A bonus for us on our visit to NYC was that we got to have dinner with our cousin Kayla Haley. Kayla graduated this spring from University of Miami and got a job with Fox News (we won't hold that against her!). Her excitement and enthusiasm for this new adventure in her life was wonderful to experience. Remember that name, folks. Kayla is going to do great things in the broadcast industry!
Since we didn't get in to the marina until after 4:00 on Tuesday, what we thought of as our two day adventure in NYC was really just a single day, but we made the most of it. We were able to get tickets for the matinee performance of "Come from Away," which was a wonderful musical about how a small town in Newfoundland took in over 7,000 people from 38 planes that were grounded after the 9/11 incident in NY. If you get a chance to see the play, don't miss it!
A very short window opened up for us to leave on Thursday morning and head down the coast to Norfolk, so reluctantly we left the city at first light, leaving Lady Liberty and the beautiful New York skyline in our wake.