Today we took Roam out for our maiden voyage! Grabbing a couple of sandwiches from the marina cafeteria, we headed south toward West Palm Beach for a quick shakedown cruise. From the flybridge, we ate our sandwiches and had a liesurely trip down the ICW.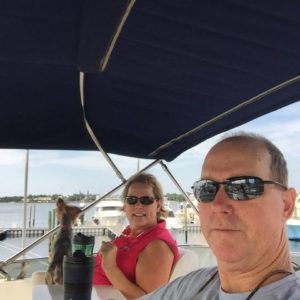 We wanted to run the generator for the day to make sure it performed properly and about 45 minutes in, Michelle reported that the Genny had shut down. Leaving Michelle at the helm (she did great!), I went down to the engine room to see if I could figure out the problem. I couldn't find any problem (plenty of oil, no overheating, belts in place), so I restarted the generator and we moved down to the pilot house so I could monitor the gauges more carefully. I'm not sure what caused the Genny to shut down the first time, but she worked flawlessly for the rest of the day.
We turned around just south of the Ribovich yard where the smallest boat is probably 2-3 times the size of our new "Yacht." If you want to feel small, inadequate, or inconsequential, spend some time in and around Palm Beach/Fort Lauderdale!
First Grounding!!
I thought I'd pull out in to Lake Worth to anchor and play around with the dinghy. This is when I learned a very important and new lesson about cruising on a 65,000+ plus vessel with 6 feet of draft — you MUST pay close attention to the charts and stay out of shallow waters! That's right, we went aground within an hour of our first cruise aboard Roam. (Get used to the bottom, old girl, with Clark navigating, you're going to see a lot of that!!!) The good news is that I had slowed to a crawl and so our grounding was really more of a scrapping along the mud bottom and we were able to back away and get back in the channel with little effort.
After a more careful review of the charts, we decided it would probably be easier to just go back up the the area just outside our Marina to anchor in 15+ feet of water. Once anchored, we practiced getting the dinghy in/out of the water. When we launched the dinghy during the survey last month, we put her in from the starboard side and that's how I did it this time as well. I wanted to see if I could launch from the stern, but before we could do any serious experimenting, a squall began to threaten, so we'll leave that experimenting for another day.
We ended our first cruise with a PERFECT, stern in docking. That's two in a row – I'm starting to get cocky!