We've been through this before. You buy a boat (new or used – it doesn't matter) and you spend the first two to twelve months (sometimes longer!) fixing broken gadgets, adding new thingies, and making it a comfortable space for you to be in. In 30+ years of owning multiple boats, I've never been able to sign the contract, move my stuff aboard and go cruising. There's always work to be done first. The challenge is to prioritize, work fast, and take care not to allow "scope creep" to keep you from keeping you at the dock any longer than necessary.
At the end of January, Michelle and I were beginning to feel a bit like we would never get away from the dock. There was plenty more work on our To-Do list, but the critical items were done, we were fully provisioned for a multi-month cruise, and we both felt that if we didn't leave right then, we might be stuck at the dock for another month or more. So, we paid our contractors, let loose the lines, and motored away. We're in the Bahamas now and I wouldn't exactly call our cruise up to this point relaxing. Until the last week, we've continued to work daily on outstanding projects, but now we're finally (mostly) down to "when we feel like it" projects — and there are always items on that list! So, we're finally in full time cruise mode and preparing to make the jump from the Bahamas to Puerto Rico and points south.
For the record though, here is a list of the projects that we've completed since taking ownership of N55-24 in November:
Main Saloon (living room)
Re-upholster the couch
Remove worn carpet and replace with area rugs
Replace two barrel chairs with low profile recliners
New Mosquito Screen for door
Master Suite
Replace worn carpet
Add Garmin display to be able to view boat status data from bed (critical on longer, multi-day cruises)
Replaced air conditioner condenser
Engine Room
Install 6KW Northern Lights Generator as backup
Install Dynagen Autostart on main, 20KW generator
Replace dripless shaft seals, including new housing on both port and starboard engines
Change all fluids, belts, filters, etc. on both engines and the 20KW generator
Install temperature sensors on dripless seals
Remove Propellors, pull Shafts and test for damage (found one shaft was bent and both had damage from overheated shaft seals)
Install new Cutlass bearings and add bearings to back of shaft tube to alleviate issue with shaft sag in tube.
Reinstall shafts and re-align engines to shafts (they're not spot on!)
Repair leak in starboard engine room fuel tank
Electronics
Install Iridium GO! satellite modem
Install backup laptop computer in Pilothouse
Update maps on all chartplotters
Install Pepwave cellular modem in Pilothouse
Other Projects
Compound, buff, and wax hull and super-structure
Have life raft re-certified
Replace the main tubes on the dinghy
Service dinghy engine
Replace black water hoses (toilet hoses)
Replace grey water hoses (sink/shower hoses)
Replace backup manual pumps for black and grey water systems
Install mosquito nets on doors in Pilothouse
Replace headliners in cabins as needed
Haul, clean, sand, and repaint bottom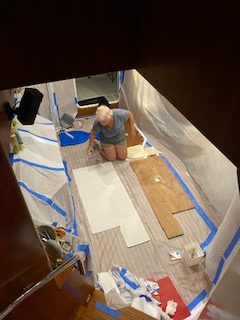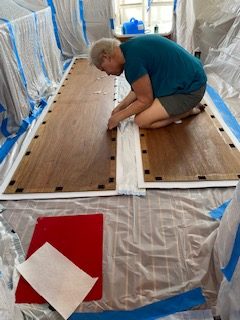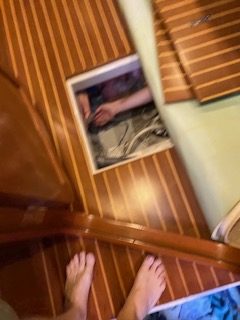 Still on the TO DO List
Troubleshoot and repair Stingray high pressure wash-down pump for anchor cleaning
Replace backup fresh water pump
Troubleshoot issues with Dynagen Autostart on 20KW Generator
Make sure to have some fun every single day!