On Monday, July 11, we took Roam down to West Palm Beach to be pulled out of the water at Seminole Marine for a bottom job and to do a couple of other projects.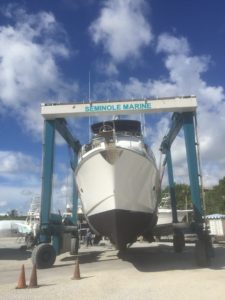 We were pulled before lunch and quickly realized why Seminole Marine was had so few boats in the yard — it is HOT in July!! But we were committed, so we let the yard team scrub the bottom and set her down on the ground in preparation for the work ahead of us.
First up, was to clean, sand, & paint the bottom. I don't think the boat had been hauled for over 3 years and it was obvious when we started scrapping barnacles and oysters! We also discovered that whoever did the prior job didn't prepare the bottom properly before painting, so we had to spend an extra day sanding and prepping the bottom for 2 coats of protective paint. After some consideration, we decided to go with Petit Ultima SR60 which is an ablative paint. The result was fantastic and I'm happy that we spent the extra time & money to get it done right.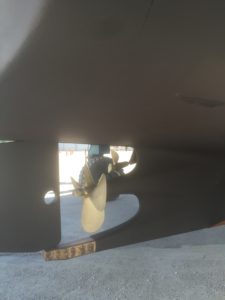 Protecting the props, shafts, and other underwater metal components from marine growth is not as simple as you might think. The bottom paint is 60% copper, which, if applied to bronze, stainless, aluminum, or most other metals, will cause a chemical reaction that will destroy a $5,000 prop in a matter of a couple of months. So, what do you do to protect the metal parts from marine growth? Well, there are several products on the market that can be used with some success, but I've yet to find a anything that I've been happy with. Donna, our painter, recommended a new product called Glide Coat (http://www.glidecoat.com). It is a nanotechnology product that goes on hard and doesn't wash off and can't be brushed off easily, like other products such as Propspeed. I'll report back on how it holds up!
We also had the Yacht Tech team polish and wax the hulls, which turned out to be a bigger job than anyone expected and I have to say they did an excellent job. The only problem that I have with what they did is that they did such a great job putting a shine on the hull, they made the superstructure look shabby!
The Yacht Tech team also installed new batteries throughout the boat. Roam has nine (9) 8D Lifeline batteries in the main battery bank and one (1) 4D Lifeline battery that is dedicated to starting the wing engine and generator. I was planning to buy the batteries and then install them myself, but then I realized that each 8D battery weighs 185 pounds! I have no idea how I would have gotten those batteries up on to the boat, much less schlep them down in to the various areas throughout the boat that they are stored!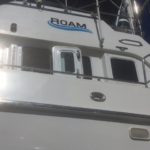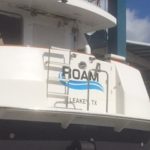 Finally, we with our new logo designed, we were able to get the name installed on the stern.  We also had the logo installed on both sides of the fly bridge. We think it's beautiful – what do you think?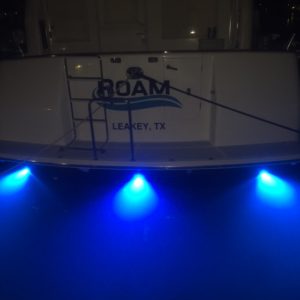 Oh, and one final thing…and this one was a special request (read that REQUIREMENT) from Michelle: We installed underwater lights on the stern. I have to say, they really did come out great. This picture is at the city marina in Fort Pierce, which is somewhat clear water, but I can't wait to see how beautiful the lights look when we're sitting at anchor in the Bahamas!
We hustled to turn the boat around in the yard as quickly as possible. I was HOPING to get back in the water by Wednesday night or Thursday morning, but we actually didn't splash until Friday morning. Even though we didn't get back in as quickly as I had hoped, I am quite pleased with the result. But, NOTE TO SELF: Don't ever schedule another bottom job in the heat of the summer!!!