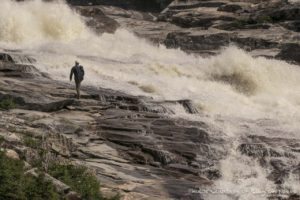 I wrote several posts as we cruised throughout Nova Scotia and Newfoundland this year and perhaps I'll go back and add another post or two to highlight photographs that we feel represent the experience we had. This post, though is really meant to be a recap of our overall thoughts on cruising in Nova Scotia and Newfoundland.
We absolutely loved everything about our summer adventures in Canada this year. If it hadn't been for the encouragement of our friends Clayton and Deanna Naeve on Tivoli (Nordhavn 50), we probably would have gone from Bermuda to Maine and that would have been the extent of our summer adventures "up north." We are so appreciative that they let us buddy boat with them over the summer. Their experience in the area gave us the confidence to stretch all the way up to Newfoundland – and we're SO GLAD that we did!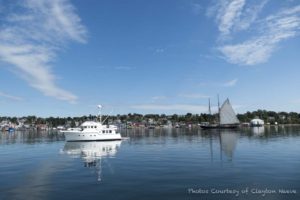 Below are thoughts on our time spent in Canada.
Weather: We weren't sure the cool weather would really suit us since we both grew up in HOT South Texas, but we found the climate to be comfortable. Most days, we would wake up to 50-60 degree air temps and the high for the day would be around 65-70. If you could get out of the breeze (if there was any) and sit in the sun, the temperature was actually quite pleasant almost all the time. While it's true that we didn't experience as much fog as many have on their trips up this way, we think the rainy/foggy days are an excellent trade off to avoid the 100+ degree weather that Texas has suffered through this year.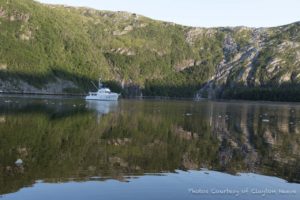 Beauty: The first thing you'll notice when you arrive is that the colors are just spectacular. Everything seems so much more vivid and clear, like you would experience hiking high up in the mountains. We've been told the lack of pollution contributes to the beauty and I believe it. The light of the early morning and late afternoon sun is especially magical, casting a special hue on everything it can reach. It's absolutely breath taking. Beyond the beautiful color pallet, there is just so much to see. Majestic landscapes, interesting architecture, vibrant flowers and plants, seals, and PUFFINS! Coming from Texas, where the normal summer landscape is BROWN, we were constantly in awe of the bright green fields and beautiful flowers.
People: The biggest surprise to me was how welcoming and interesting the people are up there. We made friends everywhere we went. The Newfies and Nova Scotians are generous beyond reason. They were generally interested in learning about us and and they wanted us to experience their lifestyle as well. Not once did we get the feeling that they were only interested in separating us from our money. I can't think of any interaction we had where we were made to feel like tourists.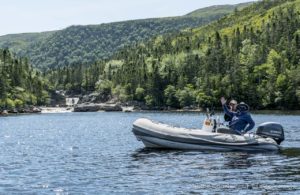 Traveling Companions: We left Florida in mid-May in the company of Clayton & Deanna Naeve aboard their Nordhavn 50, Tivoli. We talked them in to going to Bermuda with us and they talked us in to going to Nova Scotia and Newfoundland with them. Having a "buddy boat" to travel with provides an extra margin of safety, for sure, but being able to travel with people that you enjoy spending time with and that you respect and admire, has been our privilege. They added greatly to our wonderful experience.
Canada and Pets: Traveling with pets aboard can sometimes be a hassle when entering a new country. Canada was a breeze. They asked for proof of current shots and we had to have a recent health certificate from our veterinarian, but we didn't have to do any advance paperwork, or pay any additional fees. Once cleared in, we found Canada to be very dog friendly. We had a tough time walking down the street without getting stopped multiple times by people wanting to pet our dogs. If we met another dog on the street, the owner always had him/her on leash and well controlled – and they always pick up after their pets. Very civilized!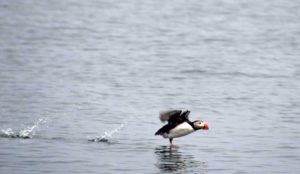 Michelle's Favorite Thing: Michelle says she loved so many things that she can't just mention one thing. Her favorite experience was the Puffin Tour that we took at the end of our Cabot Trail Adventure.  She was amazed to see so many Bald Eagles, Seals, and, of course PUFFINS! She also really enjoyed staying at Halifax Harbor for the Jazz Festival. We took several hikes in Newfoundland that were highlights for her as well. Hiking up and alongside the waterfalls at Morgan's Arm stands out for her. Like me, she was enamored with the friendly people we met everywhere we went. And I don't know if I'll ever get her to spend another summer in the south. She LOVED the weather!!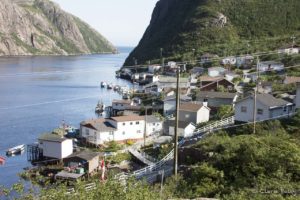 Clark's Favorite Thing: I fell in love with Francois (pronounced france ways), Newfoundland as soon as we passed through the 700 foot walls of granite that protect Francois Bay and could see the perfect, picturesque town perched on the hillside at the back of the bay. Francois is an out-village, meaning that there is no road access. The only way to get there is by boat. The government has tried to buy out the residents for years, but they're a sturdy and independent lot and they refuse to accept Canada's money to give up their homes and their way of life. This used to be a fishing community, but the collapse of the Cod Fishing Industry put an end to that life. Now, a few people still scrape out a living, fishing, lobstering, or trapping welks (which apparently the Chinese love). Most people on the island have to leave for a portion of the year to earn a living – but they continue to return. What did I love? Mostly the people. I felt like I was a part of the community as soon as I stepped off of Roam on to the city dock. We were invited in to people's homes, offered to share in a bountiful mackerel catch, and encouraged to change our travel plans to attend their annual festival (sadly we couldn't). Not once were we treated like tourists that were delivered to their shores to shed of our money.
Besides the great locals, the scenery was spectacular, there was fantastic hiking to be had up the hill and around the bay, and the bay was well protected from all weather. But don't go to Francois expecting to eat out – there is no restaurant in the community. I could have easily spent the rest of the season in Francois and someday I'd love to return.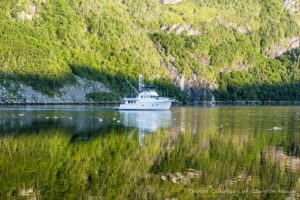 Is there another Canada Adventure in our Future? You can never say anything for certain, but we have talked about coming back next year and trying to spend time in north west Newfoundland and possibly getting up to Labrador. We've even talked about doing a circumnavigation of Newfoundland next season. We feel like we have barely scratched the surface of this wonderful area and we only left because the weather was beginning to turn cold and there is a beach in the Bahamas with our names written in the sand. Oh yea, we'll be back next year!!