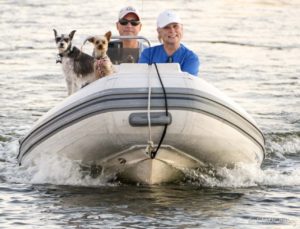 Tugboat and Sailor are part of our family and travel with us, wherever we go. We often meet other travelers that tell us they gave up their pet(s) in order to go cruising. Our dogs bring us so much joy on a daily basis that we can't imagine not having them with us. To be clear, they are needy, e.g., they must be walked multiple times per day, but those required walks give us an excuse to explore new communities and meet new and interesting people.
Sailor and Tug love everyone they meet, but they especially love children. Michelle and I were out for a walk in the lovely town of Lunenburg, Nova Scotia this summer when Michelle decided to check out a store. Tugboat, Sailor, and I were waiting outside on the sidewalk, enjoying the warmth of the afternoon sun, when I noticed a ruckus at the other end of the block. A dad was struggling with his young son who was having a melt down (all parents know how miserable this experience is and how helpless you are to do anything about it). As I stood there watching, I had a thought and walked down to introduce the child to Tugboat and Sailor. The child had no interest in meeting the dogs and only screamed louder until Sailor jumped up and with a paw on each shoulder, she started licking the tears off his cheeks. Almost instantly the screams gave way to giggles and the child totally forgot about his temper tantrum and focused on the dogs. The look of relief on Dad's face was worth all those early morning walks – even the hated rainy and cold walks! My only regret is that I didn't snap any pictures, because the look of absolute delight on the child's face was priceless. The experience reinforced why we are privileged to be able to share our world with these wonderful dogs.
There are so many stories that I could share — Ugh, hang on — Tugboat is letting me know it's time to go outside, RIGHT NOW! Can we pick this up again later? I wonder what adventures we'll get in to on this walk?
While we're out exploring, here are a few pictures for dog lovers: