We will be leaving for Texas tomorrow (5/30), so we need to wrap up a few things before we go. The bottom paint is really tired, so I wanted to get the boat out of the nasty, slimy river water that slips past us here at Sunset Bay Marina in Stuart so that I could get in with my huka rig to do a little bottom clean without ingesting the poisons that are coming out of Lake Okeechobee. That lake is a disaster and the farmers and towns that abut the lake should be ashamed of themselves – but that's another story.
Michelle and I slipped away from the dock against this morning (5/29) with an ebbing tide and headed out toward Stuart inlet in search of clear water. With the strong outbound current, we ended up out the inlet and a mile north in around 30 feet of water before we got to clear, clean water. At anchor, we were less than 100 yards from the trash and pollution line. It's alwa ys amazing to me how disparate water sources try not to mix and the line of demarcation knife sharp.
Once anchored, I got my gear together and got to work.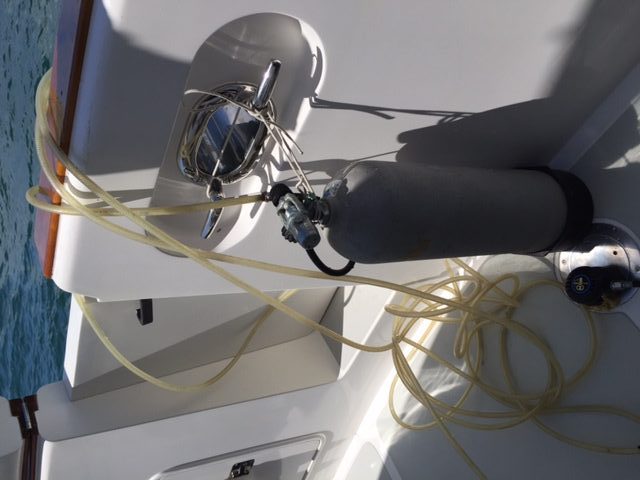 The paint on Roam is worn out and definitely needs to be replaced ASAP, but it will have to wait until July when we return.