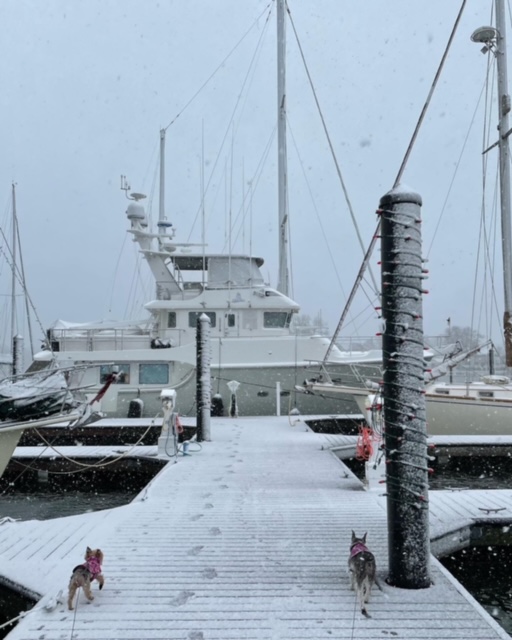 ROAM is at the Deltaville Boat Yard, getting some needed TLC. We've been in "maintentance mode" now for over two months and we're ready to get back in "cruising mode" again. We're tired, but we've accomplished much during our time here and Roam is much better for the effort. Here's a list of what we've been up to: 
Items that we planned for
Replace the rotation bearing and gear on the Steelhead Crane – This is a BIG project that requires complete disassembly of the crane and removal by another crane. We ordered the needed parts 2+ months in advance and still had to wait more than a month for the shipment to arrive!
Replace the Rear Main Seal on the 20KW generator
Install new ICOM IC-M605 VHF radio – We have 3 VHF radios on ROAM. 2 are in the pilot house and the third is on the fly bridge. The Fly bridge VHF was going out, but I couldn't get a direct replacement, which lead me down a rabbit hole, researching options. Ultimately, I ended up replacing one of the VHF's in the PH and moving the old unit to the FB. The new radio is awesome and includes some cool enhancements that I think we'll really use. Here's a link to the details.
Re-work the Fly Bridge panel so the followup lever is more conveniently located near the steering wheel.
New Main Salon curtains and blinds
Install new quartz countertop in main salon and sink station in cockpit
New upholstery on flybridge couch
Upgrade Charts for Caribbean and Central America
Fluids change on all engines (oil, transmission oil, coolant)
Remove, clean & replace seals on heat exchangers on main engines
Install speed sensor on 20KW generator to improve functionality of Dynagen Autostart
Install Panic Siren on Gost Security System
Upgrade Cellular Service on Gost Security System
Inventory and order spare parts as needed
Upgrade Iridium GO! to include US phone number
Replace insulation on enclosure for 20KW Gen
Dinghy Repairs
Replace Fuel Gauge on dinghy console
Replace Tachometer on dinghy console
Remove & grease steering system
Install Keel Guard
Clean & wax
Surprise Repairs (things that broke while we've been here)
Replace air conditioning compressor for Pilot House – This project has been a mess. When I arrived, I thought I had a problem with a soft start device. Turned out to be a $35 relay that the manufacturer STUPIDLY (or was it stupid like a fox…) installed INSIDE the compressor unit, meaning the only way to replace the relay is to replace the entire compressor! UGH!! $35 repair part, vs $5,800. Thanks DOMETIC!!
Flush & Clean Black & Grey Water tanks
Install new Engine Room Exhaust Blower in Stack
Replace DC AMP meter
Replace the Frequency Drive on the Scuba Compressor
Replace salt water pump and motor for Air Conditioning system
Replace faucet in galley sink 
Items that were on the list, but will have to wait
Revarnish cap rail on stern – This will have to wait until we get down island and have a week of decent weather.
Thoughts on Deltaville Boat Yard
We chose to go to Deltaville Boat Yard because they were a authorized Steelhead Crane Service Center. After we had booked the service, several of our cruiser friends worried us with third hand horror stories of slow and poor quality work at DBY. We considered our options and decided we would take our chances. I'm happy to report that the stories were wrong. Deltaville Boat Yard is a family run company and the owners take great pride in the facility and the work they do. The marina and yard are clean, organized, and well equipped. The staff is friendly, helpful, and even proactive. If we find ourselves needing service while we're in the Chesapeake, I'll set head for Deltaville Boat Yard again. 
Deltaville Maintenance

New PH Compressor in place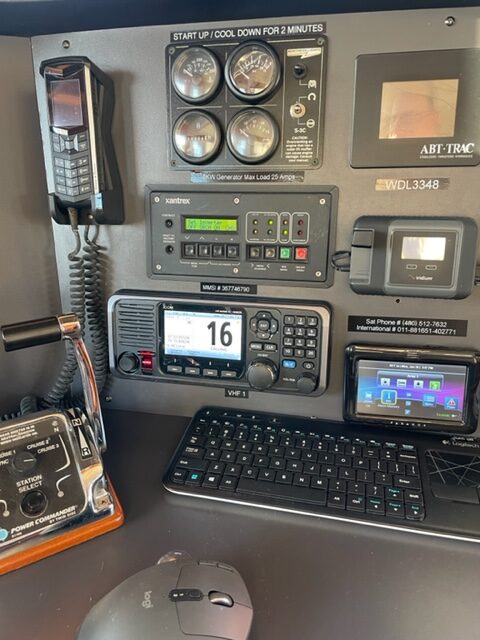 New VHF Radio. The old one replaced the one located on the Fly Bridge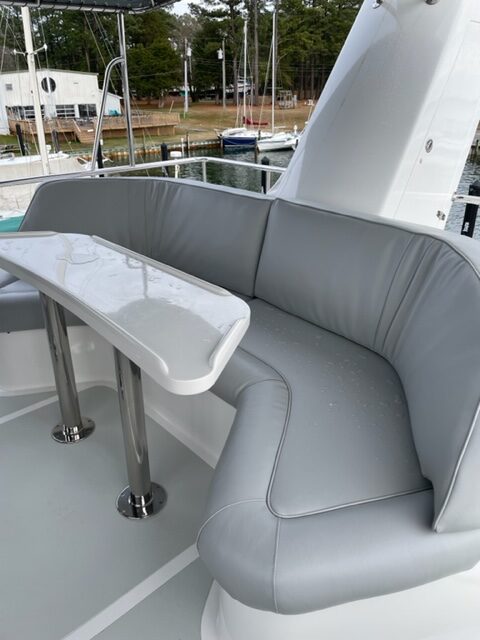 New cushions on Fly Bridge couch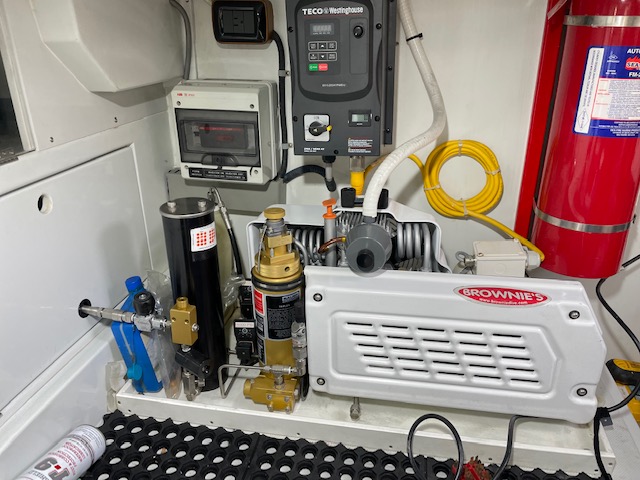 New Frequency Drive (grey box) for scuba compressor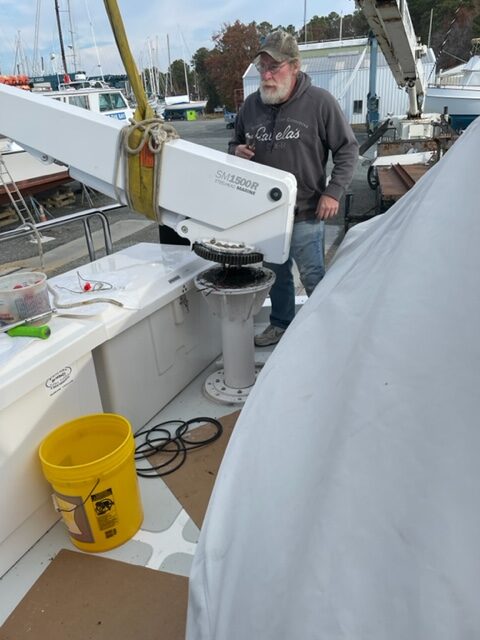 Pulling the Crane of the boat deck for repair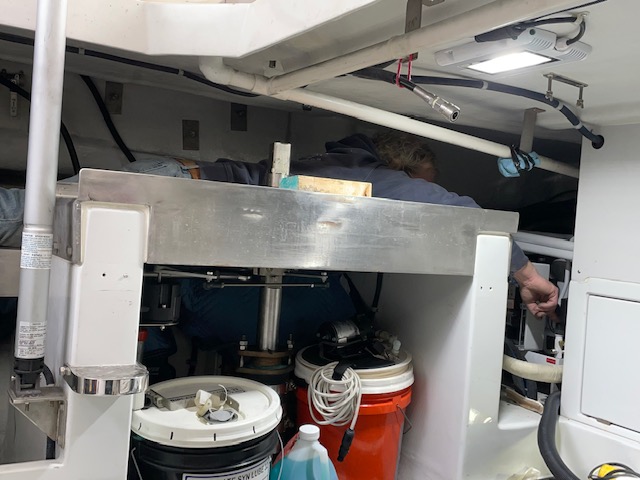 Eric (Deltaville Boatyard) behind the port rudder, working on the AC compressor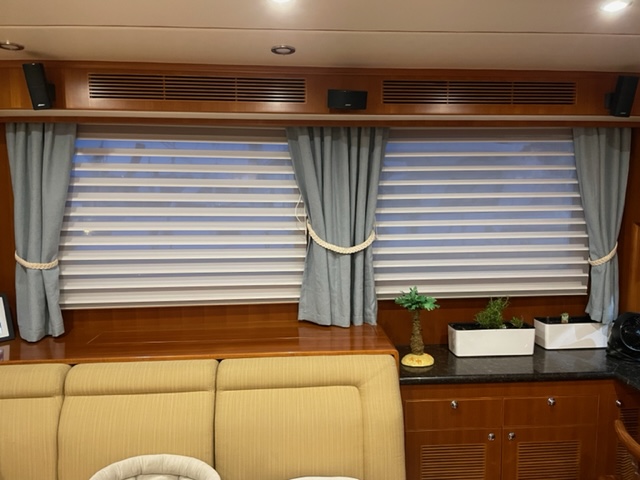 New curtains and blinds, port side salon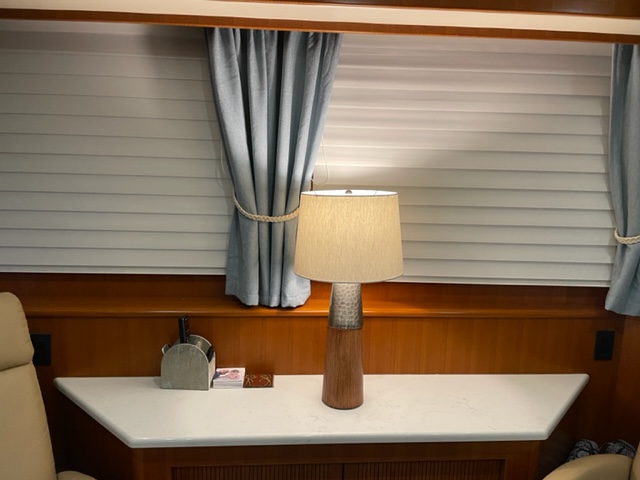 New curtains and blinds, plus new top on the table starboard side salon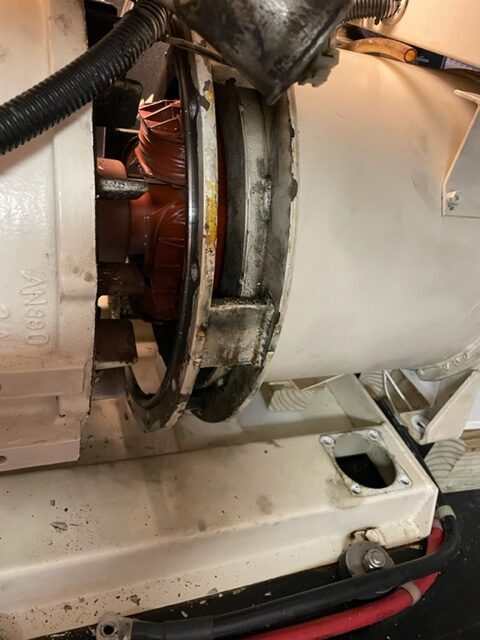 separating the generator and engine to replace the rear seal