We were were anxious to get away from Florida, but not because we don't like Florida. We were rushing to push off because we have noticed that it is too easy to get stuck at the dock, fixing "JUST ONE LAST THING!" It is especially dangerous if you're having a vendor do work for you. They'll find plenty of new projects that can keep you tied to them and to their maintenance yard.
We spent January in the yard and at the dock, doing big, important projects: Haul & Bottom Paint, Clean & Wax hull & topsides, 2nd Generator (6KW backup), Soft Start modules on the Air Conditioning units, new Black Water Hoses…, etc. At some point, you just have to say, "ENOUGH," and untie from the dock, even with items still left on your project list. If you don't do that, you could easily spend 6 months or a year (or more) making your boat perfect! Let's face it, there will ALWAYS be a project list, even if you do nothing but work on your boat for years!!
So we left for the Bahamas with a long list of things to do. Replacing headliners in several areas was next up on our list, so once we were settled in to Georgetown and took some time to enjoy friends, white sand beaches, and azure waters, Michelle turned our Boat Deck in to a prep area and turned our Main Salon in to a spray booth – and we went to work. Michelle managed to talk our friends Ted & Jenny from N47 Southern Star in to helping us prepare the panels for new material!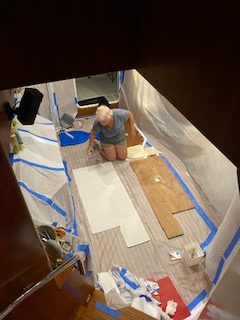 Several days later, we had replaced the panels in the master suite, the galley, the captain's cabin, and the guest suite. As they say, cruising is working on your boat in exotic places!